Get rid of accidental knocks and scratches or completely transform your vehicle for the ultimate paintwork perfection with the promise of superior workmanship using high-quality materials and full-service refinishing treatments.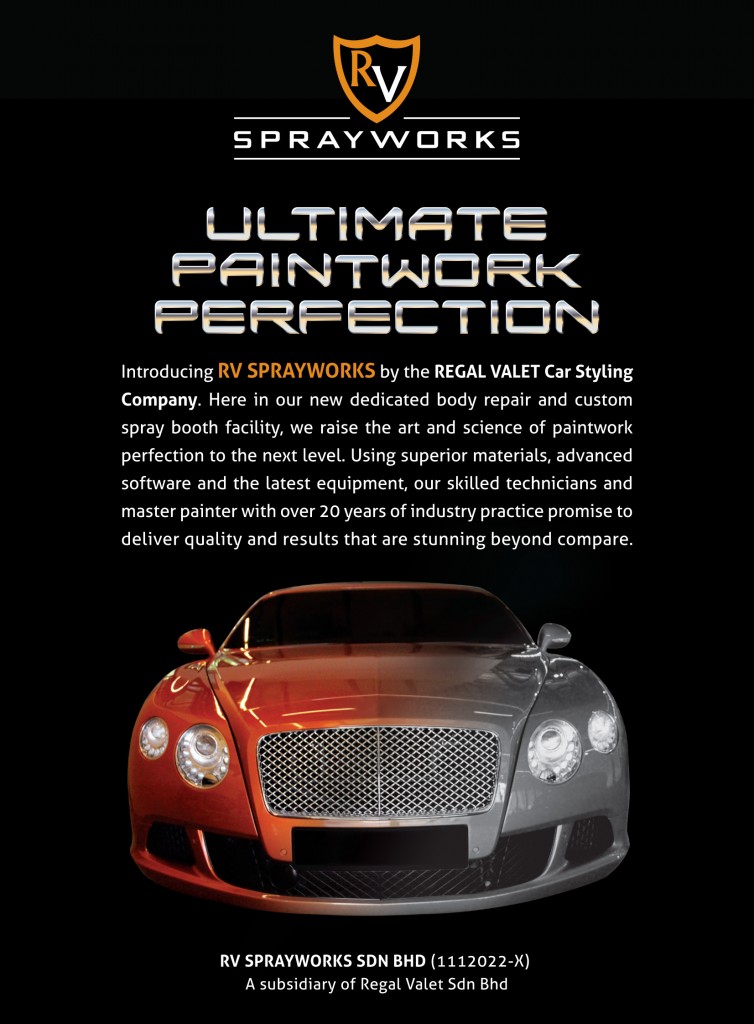 Indeed if you've done any respraying to your vehicle in the past, you'll know that the quality and durability differs quite a bit depending on where you go and how much you pay. The charging rates can also vary greatly and some body shops will even promise to beat any estimate just to get your business, and may offer to do the job for as low as RM200.
But if you love your car and considering how much you invested in it, you should avoid sending it in to such places because when it comes to auto painting and repairs, you get what you pay for. The quality of materials used, the amount of paint applied, and the standard of craftsmanship deployed during the entire process of the paint job will determine whether or not you recover an original look that will not fade with time.
Quality of Paint
The biggest reason why some shops are able to provide extremely low estimates is because they use low quality paint. Not only will this paint not look as nice and appear different to the rest of your car, but it also will not last as long. In addition, damages may not be adequately repaired, and the new layer of paint end up not providing sufficient coverage on the affected areas. It could even make flaking paint worse and risk rusting, oxidation and corrosion of your vehicle. As a result, you could find yourself needing to have your car repainted again only a short time later.
Skipping Steps
A quality paint job is labor-intensive when performed the right way, and we're known to have taken more than 10 weeks to complete most of our custom respray projects. Some discount shops promise they can get the work done in only a few hours and you might have been tempted by that, but that's only because they skip important steps along the way. For example, they may forego sanding and priming and instead apply a new coat of paint directly over the old one. If the job is not performed correctly, the odds of you noticing imperfections in your finish such as an uneven tone, pin holes, orange peel or bubbles are much greater. Respraying is not something you'll need to do with great regularity, so when you actually do need one, set aside adequate time for a job well done.
Improper Drying
Unlike a premium outfit like ours, discount paint shops rely on volume work to keep them in business. As such, cheap, fast, as many as quickly as possible becomes the name of the game. Stick around to watch and you'll see cars lined up on a conveyor belt to be quickly sprayed, and moved to some open lot to dry. The problem with this in polluted KL is that dust or other environmental particles could attach themselves to fresh paint, and be clearly visible once it dries. A reputable paint shop will contain adequate space for drying your vehicle indoors, and will use exhaust fans to remove dirt and debris from the air so they do not get on your vehicle.

Here at RV Sprayworks, our dedicated, fully-owned body repair and custom spray booth facility in Petaling Jaya, we place all our efforts in raising the art and science of paintwork perfection to the next level for discerning car owners who want only the best. Using superior paint materials, advanced software and the latest equipment, our skilled technicians and Master Painter with over 20 years of industry practice promise to deliver quality and results that are stunning beyond compare.
With us importantly, careful preparation techniques ensure that colours are accurately matched to your original tone and shade to give you back a thoroughly authentic result that often exceeds the standard you receive from your vehicle service centre. The finishing will always be as flawless as possible, stunning without the appearance of pin holes, orange peel or heavy swirls which are typical of work done at regular paint shops.




So whether it's a dented door, stone-chipped bumper or a complete makeover for a personal work of art that you'll be able to drive around with full pride and confidence, we welcome you to talk to us about the scope of work, scheduling and pricing details.
Work Samples
CLICK: Check out some of our highlight reel of custom spray projects done recently
Pricing
As a guideline, our standard charges are RM1000-RM1200 per panel (e.g. a door, bumper or bonnet).
The cost of a basic respray for the entire car starts at RM8,000 for a Compact vehicle, and surcharges apply for larger models, custom colours and special finishing.