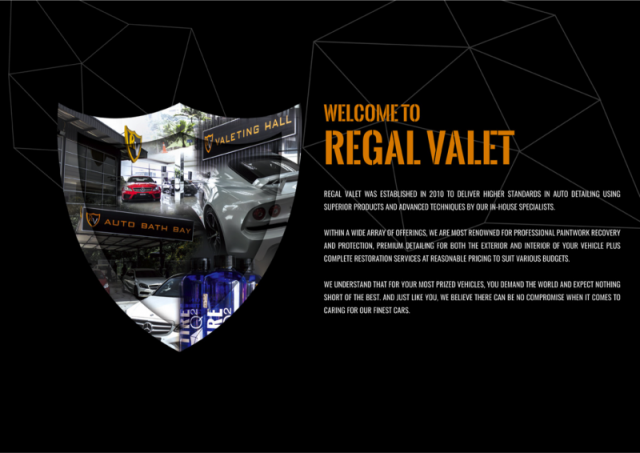 REGAL VALET SDN BHD (RV) started as a passion and love for fine cars, fuelled by the desire to raise the art and science of automotive care in Malaysia. Established in 2010 with the sole purpose of providing the best professional auto detailing services using only superior products and techniques for all types of vehicles, the company continues to lead the way by elevating industry standards and gaining recognition amongst peers around the region and even globally.
Today, the business has evolved together with its Jalan Damansara flagship centre – one of the largest one-stop, all-solutions destinations in the country that showcases its integrated specialisations in paintwork recovery and protection, restoration and professional detailing for vehicles of every kind. Its subsidiary RV SPRAYWORKS SDN BHD is a dedicated body repair and custom spray facility that delivers premium value and convenience to customers who demand superior workmanship and the utmost refinement.
As testament to its pioneering approach and market reputation, RV was appointed Certified Detailer and Exclusive Distributor for internationally award-winning brand GYEON Quartz in Malaysia. Within the B2B segment, RV holds the distinguished  position as Official Detailer for BMW Quill Automobiles, Rolls-Royce, Lotus Cars Malaysia and Honda Millennium Auto & Carriage. 
The company's key priorities moving forward will be to expand its national presence in priority markets around the country and introduce brand new solutions through strategic partnerships and the latest product innovations.