If you're in the market for a top quality paint protection system for your car, you're in the right place. Our complete range of ceramic quartz coating delivers real benefits plus true value for your investment.
We carry the exclusive ceramic quartz coating by GYEON Quartz that is widely used by top detailers around the world for industry-leading performance and results. In many reviews online, you will see how it has been highly praised to be the most advanced paint protection system in the world today, and the best that money can buy.
In Malaysia, REGAL VALET is the Certified Detailer and Exclusive Distributor for GYEON Quartz and its entire range of products. Many of the products have been nominated and voted as the top 2 in each of their respective categories at the World Detailing Product Awards over the past few years.
It is a question very often asked by consumers: With so many different brands of coatings and vendors in the market today, how do I ensure that I'm making the best choice for my car within my specific budget and personal needs?
Just like anything else, it comes down to your level of comfort, needs and the accessibility of the product pricing, matched to your own requirements and nobody else. What works for you may not be the best solution for another person.

Once you ascertain that a particular brand of coating delivers all the quality and benefits you need for your car, the next step is narrowing the choices down to one or two ranges to consider. What usually differentiates individual product options is strength and durability of the coating solution itself. While top-end options can last for around 5 years with proper care, going for a lower-end version means that reapplication after 1 or 2 years may be necessary. It also means that the coating does not contain as high a protective or shine property as its more expensive variants.
To help you decide, we summarise the overall benefits plus key highlights of each option below: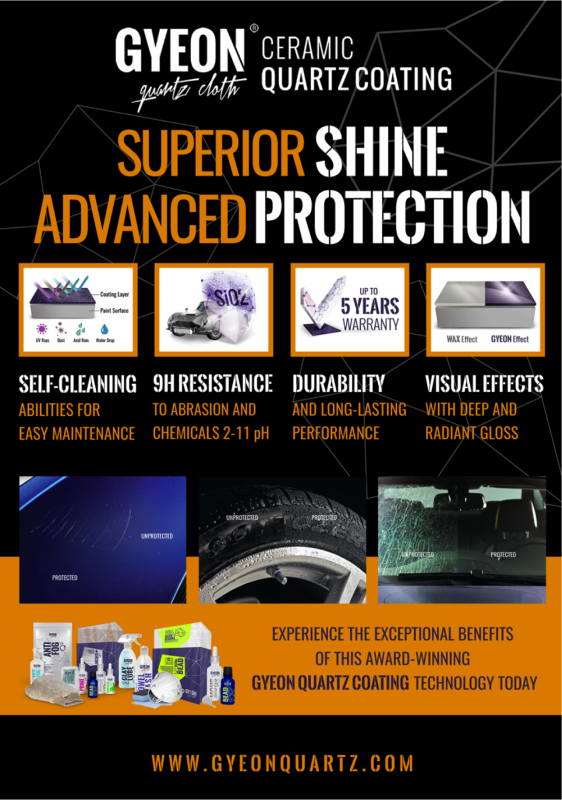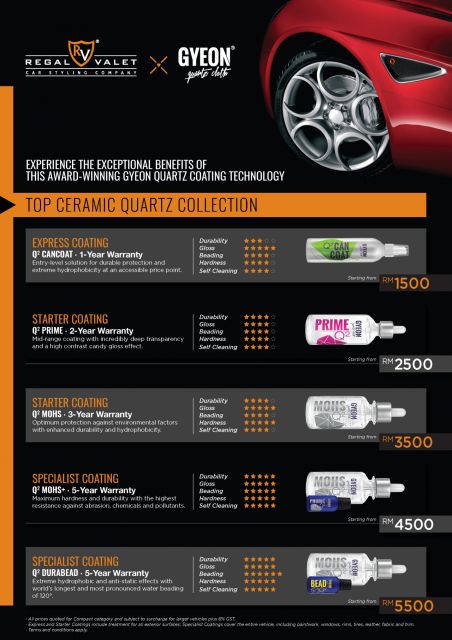 Browse through our blog to see examples of our past work, and understand our values and principles when it comes to providing the best premium car care for car lovers in the Klang Valley and beyond. If you'd like to talk, give us a call at 1700-81-7569 during regular working hours.
For more reasons on why you'd want to choose us, also take a look at the following:
If by now, you're certain that GYEON is the coating for you, fill in the form below with your details to receive a special offer only for first time customers:
[contact-form][contact-field label='Name' type='name' required='1'/][contact-field label='Email' type='email' required='1'/][contact-field label='Mobile' type='url' required='1'/][contact-field label='Car Make %26amp; Model' type='text' required='1'/][contact-field label='Preferred Coating' type='select' required='1′ options='DuraBead (5Y Warranty),MOHS+ (5Y Warranty),MOHS (3Y Warranty),Prime (2Y Warranty),CanCoat (1Y Warranty)'/][/contact-form]