With different approaches to professional car care and numerous options in the world of paint protection systems, what sets GYEON Quartz ceramic coatings apart?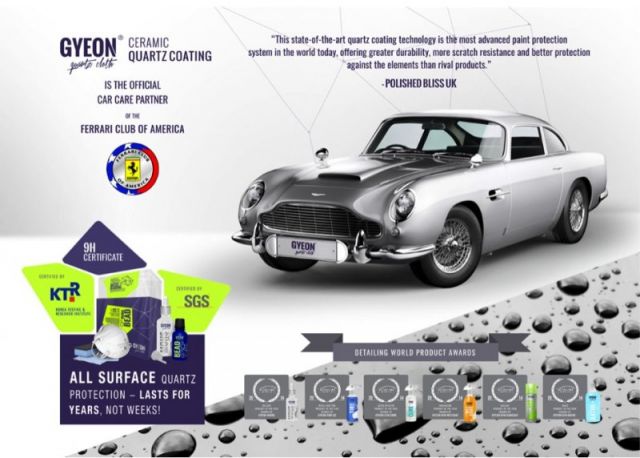 There are only a few simple reasons why you are considering a ceramic quartz coating as a paint protection system for your vehicle, whether it's brand new or pre-loved.
For most people, it comes down to:
Protection — safeguarding the vehicle against environmental pollutants and contaminants, hence prolonging its original appearance and enhancing the long-term value of the vehicle.
Looks — the latest ceramic coatings achieve aesthetics comparable or exceeding the highest grade of traditional waxes for prolonged shine and gloss. And unlike waxes, it stays on even in our hot and wet tropical climate.
Ease of care — on a bare paint surface, dirt and grime adhere more easily necessitating frequent washing. On a coated surface, the contaminants are repelled and wash off quickly to save you so much effort in ongoing maintenance.
Too many choices, too little time!
So as you start looking around the market and searching online, you realise there's an infinite list of brands, products and vendors each touting their very own cutting-edge innovation or miraculous advantages over the other. Discerning the high quality ones that actually work and last as advertised is the tricky part for most people. As a professional detailing outfit for the past 6 years, we have gone through many different products ourselves with the hope of discovering the holy grail. Let us get one thing out of the way: there is none!
With GYEON however, we come pretty close. This is a brand that offers a range of premium quality products which have been extensively tested to satisfy the needs of car detailing enthusiasts, as well as the tough requirements of professionals. Over years of usage with our customers, we have seen excellent results and received feedback from many about the long-lasting performance and durability of the GYEON coatings.
All this is because at GYEON, continuous studies and R&D are put in place in order to provide you with the most innovative solutions which will always provide exceptional results and satisfaction. In fact, after using the range of products for years, and being appointed the brand's Certified Detailer and Exclusive Distributor in Malaysia, Regal Valet has made it our mission to deliver the most technologically advanced products in the market, at competitive prices.
You see, GYEON products do not rely on gimmicks like fancy colours and fruity scents; neither do they promise the impossible like a complete vehicle transformation without any effort in 15 minutes or results that automatically last a lifetime. What we and GYEON together do promise more importantly, is genuine long-lasting results and high quality surface protection. So if you are looking for reliable products that are easy to use and offer extended durability of many years rather than a few short months, then GYEON is the brand for you.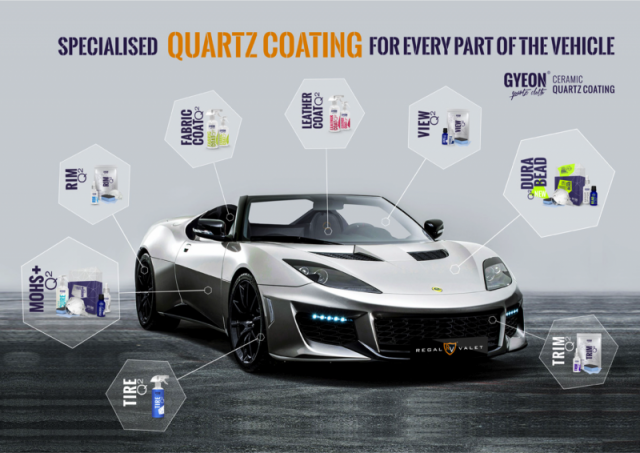 WHAT SETS GYEON APART — in their own words
"Many years of experience in the professional vehicle detailing industry has led to the creation of the GYEON brand. We do not think of ourselves as simply a product manufacturer – we are absolutely passionate about what we do. Every single item in our range is because of our mission to deliver the very best product in terms of quality, durability and ease of use. They have been tested extensively with science in the laboratory and also in reality by professional detailing businesses before they ever reach the market, to guarantee you proven results.
We respect your time, which is why you can always rely on our consistent, high-quality products as well as our expertise gained through years of development and improvements. We try to offer you complete solutions, hence our market leading coatings come with all the necessary accesories and illustrated instructions to achieve maximum results. And our range is offered in superior packaging with a clean design to provide clear information to you our customer."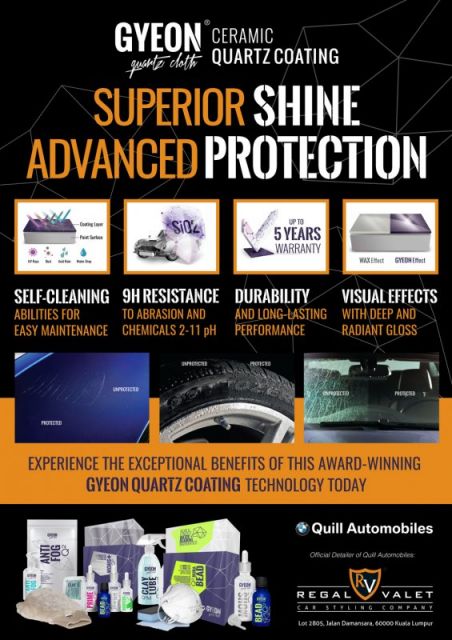 If you are fairly new into the study of selecting the best approach to caring for your vehicles, have a read of the following to get a clearer idea of what you're getting into:
QUARTZ COATING VS WAX COMPARISON
Quartz coating is a liquid, a SiO2-based medium which protects painted automotive surfaces. It contains the solvents necessary to obtain a liquid consistency that eases overlaying on the paint surface, which will after application vaporize due to contact with oxygen. Traditional waxes contain, in most cases, the Carnauba wax of Brazilian palm trees, beeswax or KPS-type, synthetic waxes.
WHAT ARE THE NATURAL PROPERTIES OF WAXES?
Natural waxes or mixtures of natural and synthetic waxes are characterized primarily by high oiliness resulting in a wet look finish. Yet the same property becomes the products' disadvantage, because it is built upon delicate oils, so therefore it is not resistant to strong detergents used in a commercial car wash or even as ingredients in stronger car shampoos. Furthermore waxes are exposed to fast dissolution by chemical contaminants, road salt or bird droppings. Their oiliness, desirable in terms of appearance, translates also into a troublesome and tedious rubbing off the product after evaporation of the solvents. It may also leave smudges or off-white sediment that is hard to remove. Due to those reasons traditional waxes is now perceived as less efficient in the hierarchy of detailing products. Although they may temporarily add aesthetic value they cannot guarantee real, lasting protection.
WHAT ARE THE NATURAL PROPERTIES OF QUARTZ COATINGS?
Very high structural integrity of the quartz coating prevents damage by external factors, such as strong chemicals and detergents, bird droppings and road salt. The coating dissolves heavy degreasers, alcohol, removing tar substances or metallic particles and due to its specific thickness and substantial hardness it protects the automotive paint from light scratching and fogging. Moreover, it provides very high clarity and transparency, exposing details of the paint and finish.
WHAT IS THE RESISTANCE TO EXTERNAL FACTORS?
The table below shows most frequently appearing factors by comparison in a scale from 1 to 10 (where the parameter 1 is a total failure, and 10 full protection against a specific factor).

DIFFERENCES IN EVERYDAY MAINTENANCE OF AN AUTOMOBILE
Apart from durability and resistance, the most vital area where quartz coatings manifest its superiority over waxes is in the everyday maintenance. Due to significant, self-cleaning properties of the coating, washing the car becomes much easier. Dirt adheres to the quartz layer more slowly than to the paint covered with wax, and its removal sometimes does often not even require detergents, only water pressure itself. The car which is quartz-protected may be washed with any products at any frequency, with much less fear of damage.
CONCLUSIONS
When taking into account all the characteristics required from a proper automotive coating, such as durability, efficiency in protecting the paint, easiness of everyday maintenance etc., GYEON's ceramic quartz coating seems to be an obvious choice. Owing to the specific properties of silica, the base of GYEON products, you will have a guarantee of flawless appearance for your car for a very long time. What's even better is that you will end up spending less money to upkeep your vehicle in the years to come!
To also read our GYEON Quartz FAQ, please click here.