If you can't pay your bills, you can't enjoy your thrills!
Look guys, the country is in disarray and the state of our economy — to borrow a line from Spectre — is like a kite dancing in a hurricane. We're all stretched to wit's end with prices of our daily essentials and everyday luxuries shooting through the roof. The best of us can only hope to retain a semblance of dignity battling the wounds from our downsized lifestyle.
Tough times or not nevertheless, it's still very important to take good care and protect our precious investments. However, as we all know, keeping our cars clean and shiny in presentable condition through professional washing can take its toll on our monthly expenses. Sure, there are many lower value offers or express car wash service that you can go to, and if you so choose, will be perfectly wise to do your own washing at home with the right tools. (Tip: the award-winning GYEON Q2M BATHE+ shampoo is an excellent product for home wash!)
But what if we told you about a wonderful solution where you needn't compromise quality for some great savings? We thought long and hard on this one, trying to figure out how to give back to our customers and help in whatever small ways we can during these trying times. And that is how we came out with a nice, nifty idea that can hopefully benefit many of you in a meaningful way.
Halve your monthly car wash expense & take better care of your vehicle!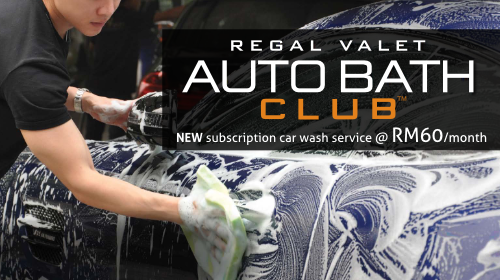 Our brand new AUTO BATH CLUB is a special membership programme with low monthly charges that allows you to come by for a professional car wash whenever you want, as many times as you like. If you've always had the good habit of sending your car for a wash at least once a week, and if you live or work in the vicinity of Damansara — then this will certainly be a great fit for you. While your car is being worked on, feel free to hang around in our cosy lounge watching the latest programmes on Netflix and sipping some coffee or tea.
AUTO BATH CLUB is available with a choice of 3 subscription plans:
Single: RM60 per month for 1 car (RM60 per vehicle)
Twin: RM110 per month for 2 cars (RM55 per vehicle)
Family: RM150 per month for 3 cars (RM50 per vehicle)
Given that we use only high quality pH-neutral solutions in all our washes, your vehicles will always be in safe hands, but if you're interested, there's also an upgrade option for the Q2M BATHE+ shampoo mentioned above for an additional RM50 a month.
For a start, we definitely wanted to keep things really straightforward, so what happens after you sign up online is as follows:
Print or show us your payment confirmation during your first visit.
We will issue a car sticker to identify you as a member for future visits.
Your credit card will be charged on a monthly basis for the amount stated.
Enjoy unlimited car washes for your registered vehicle(s) only at RV Damansara.
After 3 months, you may cancel your membership at any time before the next billing cycle.
Members are also entitled to 10% discount on standard products and services.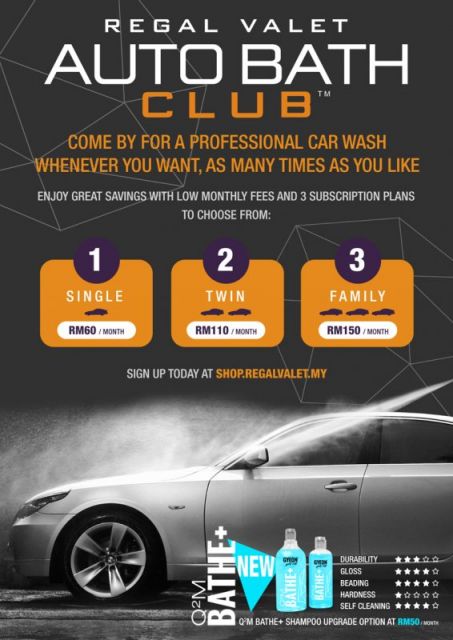 We hope our customers and those of you from around the neighbourhood find this programme to be of great value; and since we are making a limited number of subscriptions available at this initial launch, please sign up as soon as possible. For the rest of you who would like to try out our car wash before joining, the standard per session service is still available at RM25 (Sedan), RM30 (SUV) and RM35 (MPV). But with the AUTO BATH CLUB, you get to enjoy one flat fee for your vehicle — and as you can see, it becomes an even bigger bargain when you rope in your friends or family as well.
Click the button below to go to our secure checkout page right away:
Comments
comments