Join us this Saturday at Lotus Cars Malaysia to test drive the all-new LOTUS Evora 400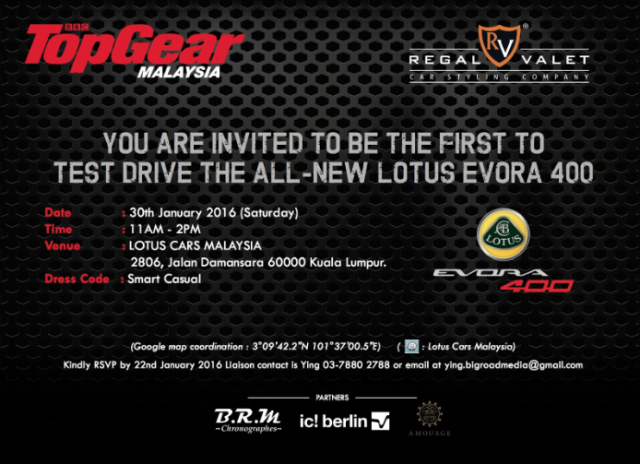 The LOTUS Evora 400 is all set to finally leave tongues wagging on the streets of Kuala Lumpur in just a matter of days. In the run-up to the Malaysian launch of this all-new supercar, the excitement is ratcheting sky-high amongst 'thrill seekers, joy riders, pure drivers and all LOTUS enthusiasts extraordinaire' from Damansara to Sepang. The Evora 400 is lighter and the fastest road car LOTUS has ever built, and we invite you to come share the experience up-close behind the wheels.
Here are some quick specs of the LOTUS Evora 400 picked out from the official LOTUS website:
Fastest production Lotus ever
High power, 400 hp. 3.5 litre V6, 24 valve, water cooled, all aluminium engine, with Edelbrock supercharger
Delivers punchy 302 lbs ft (410 Nm) of torque
Mid-engine provides outstanding balance
Aero package and lightweight rear sport diffuser deliver extra 23 kg of downforce
Driver activated, post-cat free flow exhaust enhancement
Supercar acceleration from 0 mph to 60 mph in just 4.1 seconds
From what we have seen, the refined angular design is truly a step above its past models, giving it a more aggressive styling with a new muscular seriousness that will certainly widen its appeal and bring the challenge to its competitors in the stakes for modern sports car supremacy.
This is indeed a significant move forward for LOTUS, underlining possibly a new era for this prestigious car maker and you can come check it out for yourself this Saturday, 30th January 2016. As the test drive slots are given out on a first come, first served basis, you should try to arrive as early as possible to get on the list and make some noise along the hilly, windy roads of Jalan Damansara.
The following snaps show the vehicle in the early stages of preparatory work earlier this week:
And here's a final look at the LOTUS Evora 400 today — all done and ready for showtime. See you guys at the launch event!
Comments
comments