Firstly, we want to thank all members of the Auto Bath Club for being loyal customers at Regal Valet. At the onset a little less than a year ago, we launched the ABC mainly to reward our regular clients and also as a way to introduce RV to car lovers living or working around the Damansara neighbourhood.
In releasing the programme to an early batch of joiners, we made sure to price it cheaper than pretty much every other car wash service out there including the express washes at gas stations — while delivering a higher quality using premium products and proper techniques. Based on the assumption of a weekly wash, the Single plan at RM60 a month made it a mere RM15 per session. Many members even came by on average about twice a week, which was actually a good thing as this showed their level of commitment in caring for their cars.
Time for a teeny-weeny increase, here are the details: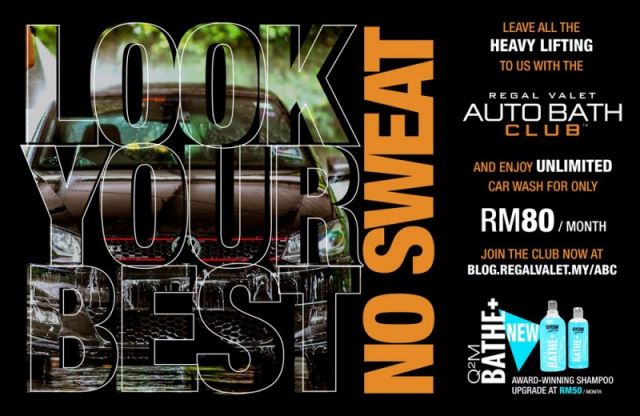 From August 2016 onwards, we will be increasing the rates for new members only as follows:
Single (1 vehicle): RM80 (RM80 each)
Twin (2 vehicles): RM150 (RM75 each)
Family (3 vehicles): RM210 (RM70 each)
In addition to this, we are also introducing a large vehicle surcharge that applies to the SUV and MPV categories at RM10 each. This fee is to cover the much longer time and additional resources needed to clean these vehicles inside out.
The new rates are only applicable to new members, which means that current members will continue paying based on their original joining amount. With this marginal increase, we hope that future members will still be able to enjoy our professional car wash service in our unique facilities within a safe and premium environment, all at a competitive and value for money pricing.
We want to hear from you — help us get better and maintain our 5-star service every single day
Car wash is tough and labour intensive and as with any other service business around, we depend on continuous feedback and valuable suggestions from our customers to maintain a consistent level of quality and standards. This is evermore important in instances of any shortcomings (which we hope have been rare and far between) so that we may quickly correct the mistakes and improve your experience here at RV.
Occasionally we may even have new intakes of workers in training who take a little longer time to fully absorb and pick up all the good habits and best practices that we place such a high priority on. We thank you for your patience and understanding if ever you receive service that is anything less than stellar. Please do not hesitate to raise any issues with our manager on duty or at our front office on the spot so that we may take immediate remedial action.
Be our ambassadors out there and give us a good word if you love us. Yes we love you back!
For those of you who have been active advocates of our products and services, we want you to know that we greatly appreciate your kind words or recommendations to your family and friends. Positive word of mouth is indeed a valuable asset that we hope to cultivate through your continued support and endorsement. Do refer anyone you know who may be interested in what we have to offer so that we continue to grow, learn and expand our value to all of you in the many years ahead.
Comments
comments