The biggest and grandest festive season is upon us once again, and this year we wanted to craft and commence our festive promo to give you all enough time to plan ahead for your service schedules. There are 4 main deals on offer that we hope will suit a wide range of needs and budget. Scroll through below for further details or contact our new customer hotline 1-700-81-7569 for other enquiries.
Offer 1 is the main highlight this year with our flagship ceramic quartz coating by GYEON Quartz. Reviewed by top global detailers as the most advanced paint protection system in the world today, this service will first start with a comprehensive clear coat correction in order to recover your car's paintwork to its best possible condition. Once that is done, we proceed to the coating process with GYEON Q2 MOHS+ coating that we recently shared on our blog. You may read more about it by clicking here or visit GYEON's site at http://www.gyeonquartz.com/product-guide/q2-mohs-plus.
Priced at RM3500 for a large sedan, you may choose to take either the RM1000 discount or lock in the 1-year maintenance programme with 2 AktivCare sessions (once every 6 months) that is meant to keep your car looking brand new and free of imperfections all year long.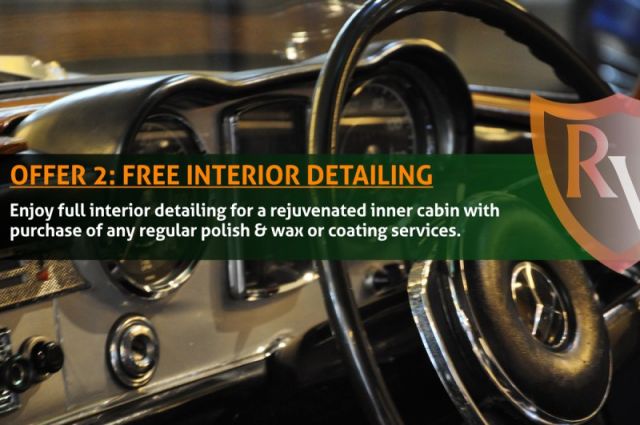 The second offer is for those with a lower budget, but would still like the brand new look for your car this holiday season. It starts with our signature paintwork recovery session to permanently remove marks and blemishes from your car, and is followed by application of a high quality natural wax or mid-level GYEON coatings that will give great shine and moderate protection lasting from a couple of months up to 1 year. With the wax option, service starts at RM750 for standard-sized cars, and the complimentary interior detailing is worth RM300. For something even better yet affordable, choose either the award-winning GYEON Q2 CanCoat or Q2 PRIME coatings starting from RM1000.
The third deal is really an attractive package for those who want to make a more dramatic change this Raya holidays. If your car looks aged or is covered with dents and scratches, you may want to just fix up the damages and go for a completely fresh coat of paint. If you like, perhaps it's time to change over to a favourite colour that suits your taste. Our experienced painters at our custom body and spray works facility will deliver a fantastic result that will help you stand out amongst family and friends wherever you go visiting. As a bonus to protect your investment, we will finish it off with a free GYEON Quartz MOHS+ coating worth RM3500 for a large sedan that gives the best shine and protection lasting up to 2 years.
This last offer is a new addition to our portfolio and recently introduced as we wanted to provide a more entry level service for those who seek our renowned quality standards, but either lack the funds or time for now. If your car is in a relatively decent state and you're just looking to take it up a notch, this service will eradicate tough stains, scruffs and reduce the most visible surface marks. Here, you get to enjoy the amazing results of GYEON Q2 Can Coat that will give you a deep shine with strong protection for up to 6 months. Normally priced from RM450-RM800, we are offering it to the first 100 customers at only RM300. Check it out here: http://www.gyeonquartz.com/product-guide/q2-cancoat
If you'd like more information on the above, or want to book your slots early, call our hotline at 1-700-81-7569. We look forward to a peaceful and joyous Puasa and Raya season bustling with loads of fun and love this year for all our customers and friends.