Upgrade to a new state-of-the-art & the pinnacle of car care technology. Top detailers call this the most advanced paint protection system in the world today.
GYEON Quartz is a relatively new but certainly the up and coming brand in Malaysia today. Throughout Asia, Europe and recently in the US as well, this brand has already been making waves throughout the professional detailers community and picking up ardent fans amongst discerning home enthusiasts with its specialised range of innovative car care solutions. Moreover, the coatings have been officially tested and certified by SGS and KTR, the world's largest certification bodies. In the past 2 years alone, GYEON Quartz has had many of its signature products voted amongst the top in the world within every category it was nominated for at the annual Detailing World Product Awards 2013 and 2014.
Here in Malaysia, we've carried most of its products for awhile now, and if asked, can attest to their effectiveness and durability compared to many of the other solutions in the market that we've considered using in our business. Nevertheless, as the Certified Detailer and Exclusive Distributor for the brand in Malaysia, you should definitely not take our word at face value. Many vendors out there boldly make claims of every imaginable proportion but have usually got little proof or track record to back them up. And just like many other things, it quickly becomes the case of one man's words against another. As a result, the consumer becomes inundated with limitless options and the only way to find a legitimate offer is through trial and error. Needless to say, things can get pretty expensive very quickly if you're unlucky.
We don't want you to go through all that pain and hassle. Which is why, in the rest of this post, we share with you further information and anecdotes collated from top independent reviewers and industry professionals who have seen it all. Search around even more on your own and we're sure you'll continue to come across further evidence of the efficacy and value in these products. Read on to see why the GYEON Quartz solution is the best investment you can possibly make today for the long-term benefit of your vehicle, old or new.
It's not very often that we're lucky enough to have some of the most renowned detailers from around the world – independent and unbiased – unequivocally putting their stamps of approval on a singular brand or product in a sea of very many. This kind of endorsement saves us from much confusion and the danger of partial opinions by brands or vendors with vested interest and personal agendas in promoting their own stuff.
Just recently, globally recognised detailer Polished Bliss from the UK confirmed that amongst all the different brands and products they have used to date, the range of SiO2-based coatings by GYEON are without a doubt the best and most advanced paint protection system in the world today. They went on to further state that the relatively higher price point aside, it is significantly superior to all competing alternatives and represents the pinnacle of car care technology. Put simply, it is the best that money can buy.
Enough from us – you might want to go read the full scripts at source instead:
http://www.polishedbliss.co.uk/acatalog/gyeon-q2-mohs-plus-set-cat12.html
http://www.polishedbliss.co.uk/acatalog/gyeon-q2-durabead-set-cat12.html
http://www.polishedbliss.co.uk/blog/2015/01/911-991-gt3-correction-detail
If you'd looked around the links shared up in the previous photo, you would've seen this said about the GYEON Quartz coating: "Put simply, we cannot offer you any better than this package; it represents the pinnacle of car care technology and the state of our art at the present time."
Proven and tested in real life usage over an extended period of time, this cutting edge solution stands head and shoulders above all the other sealants or coatings found in the market. How and why? GYEON's unique two-stage formula lays down a thick hybrid film of organic-silica that is structurally denser and stronger, increasing in molecular weight as it cures to form an amorphous organic-silica nano-composite. On the other hand, older systems offered by dealerships and competing brands lay down organic polymers that cross-link weakly with painted surfaces, forming a temporary sacrificial coating that is readily eroded by cleaning chemicals and natural solvents. What this means is that, cheap quartz solutions tend to not fully crystallise and no matter how many layers you apply, if it doesn't stick, it doesn't stick. Polished Bliss again tells us how we can confirm this behaviour in real life:
"If you leave small samples of all of the SiO2-based products we stock open overnight, all will still be in liquid form the following day (minus varying degrees of evaporated solvent content), with the exception of GYEON Quartz coatings, which will all have set hard in a crystallised state."
Many freshly coated cars may look similarly stunning leaving the shop, but the real test and value of your investment will only truly shine through in the months and years ahead. GYEON wins hands down when it comes to durability and long-lastingness if we may say so ourselves. Indeed, without any pompous claims of 5, 10, 20 or even lifetime guarantees, under the harshest daily circumstances and even when decontaminated on a regular basis, this coating really will last for up to 2 solid years. And with proper maintenance through our AktivCare programme, you will potentially experience the true benefits far longer than the manufacturer warranty period itself.
It can get a little disorientating in a crowded marketplace with every brand and product claiming to be king of the jungle. Clones and lookalikes; pretenders and wannabes. You name it, you'll find it. It's been rightly pointed out that there's way too much hype out there, and we couldn't agree more.
But one thing is certain. If you're ever hesitant about making the leap to the latest coating technology available today, take your time to do your research and get educated. At the night market, going where the crowd goes may get you to the best stalls that side of town.
Though with your cars, the investment will be much higher, so you might want to be a little more careful and diligent with things. When you do that, you're no longer at the mercy of vendors big or small out to sell you whatever they happen to dig out from the basement, even when they tell you that it originates from Germany, fully imported or otherwise.
Some may even argue that paint protection films are the only real solution that offers true permanent protection for your vehicle. They're thick and lasting and looks amazing for years they say. There might be a certain amount of truth to that and it can be made out to sound so amazing, but as usual you should look around to people who have done it for feedback. 
From what we've heard and seen with our own eyes, these really expensive films may look and work great at the onset, and will even stay on for more than 5 years and beyond. But honestly, within a year or so of regular utility, you can't escape from the inevitable peeling or curling off edges and corners, next-generation leap or not. Take a closer look all around the emblems, doors, boot, bonnets or handles and the sticky dirt-stained outlines at the seams become an eyesore every time you're near your car.
As the only GYEON Certified Detailer and Exclusive Distributor in Malaysia, we guarantee a high level of professionalism in our systems and work processes. All our technicians are taught by experienced senior personnel over many weeks and months of practice and on-the-job training to reach a standard that we can be proud of.
Unlike simple DIY or the basic coatings used by our competitors in the market, application of the GYEON Quartz system requires a most precise and refined workmanship. There also needs to be a great amount of awareness and technical know-how throughout the entire process lasting 1-2 days for the coating to sit and cure in order to truly bring out its full potential and achieve the much talked about award-winning results.
That's really all there is to say about this. Choosing the GYEON Quartz solution gives you the complete package and a holistic service covering your entire vehicle, inside and out. The system comes with individual specialised surface treatments to ensure every part of the car is protected and looking its best for years to come.
Whether it's the paintwork, glass, rims, trim or upholstery, you get the whole lot with nothing extra to pay for. No surprises and zero nonsense. Each model of every car brand in the market falls within our five vehicle type categories for a flat fee that delivers superior value and as many believe, the best of the best that money can buy today.
So if you think all this sounds great and you're interested to try it out, your options are summarised below with key highlights for each of them. For all general purposes of a comprehensive surface protection system at a reasonable price with good value, we would recommend the Q2 MOHS+ starting at RM3500 for a standard-sized saloon and below. At the next lower level, the Q2 Prime also offers all the great protective benefits and an unmatched candy gloss shine, albeit at a lesser warranty period. But if you're the type that shoots for gold, the latest Q2 DuraBead coating promises the world's longest lasting water beading effect!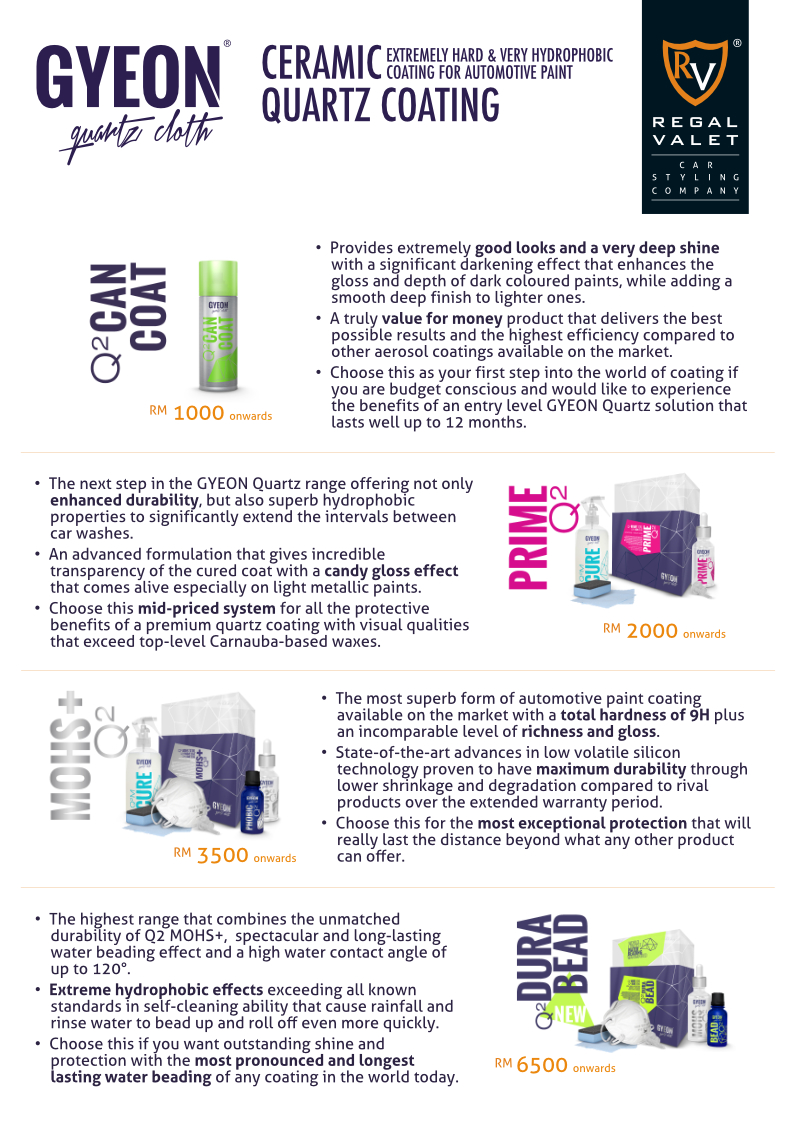 We hope that was helpful and insightful for you. Further enquiries can be made at our Damansara flagship or through phone 1700-81-7569.
Comments
comments