The Bentley Bentayga First Edition is the world's fastest and most luxurious SUV ever, and this one right here is the first and only one in Malaysia at the moment.. Power on!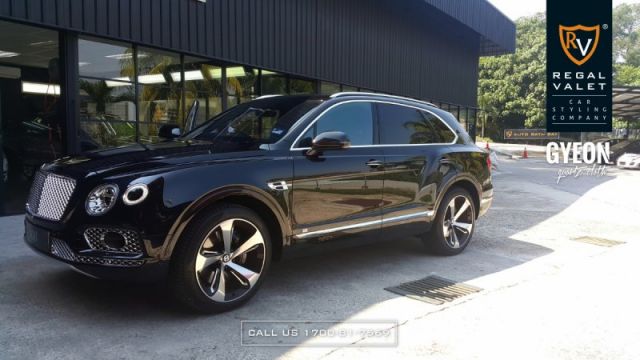 There you go: The Bentley Bentayga is bold, loud and in your face. And we'd totally understand if you so want to get into one right now just to experience for yourself this ultra-luxurious modern SUV by legendary UK marque, Bentley. The truth is, very little will come close to giving you the kind of gloating rights amongst your friends than this limited edition man toy with a dashing RM3,000,000 price tag.
https://youtu.be/9RLol0mweX8
Super exclusive, very limited. The extraordinary super-SUV spends a week in RV Damansara.
Having this first of the First at RV Damansara last month was a real joy — but also a good challenge and opportunity — as our most experienced technicians were tasked to bring their highest attention and skill-set coupled with newly purchased specialist tools to deliver the greatest level of aesthetics for the Bentley Bentayga.
Staying true to its exclusivity, production is said to be limited to only 608 units worldwide. That's one for every horsepower the Bentayga offers in its behemoth 6.0 litre W12 engine that rockets 0-60 mph in 4.0 secs flat or 0-100 km/h in 4.1 secs up to a maximum speed of 187 mph or 301 km/h. It's anyone's guess how many will end up on our shores eventually, but we'd venture a little more than a handful because yes, we really are a nation of Richie Riches.
This visual stunner may look great in pictures, but trust us.. it begs to be examined close-up in person, with the chance to get truly intimate with it reserved for the very lucky few. In stylistic terms, there are some distinct features that set the First Edition apart from regular Bentaygas; most noticeably the Union Jack badges on the front doors, carbon-fibre addenda, black insets in the 22-inch wheels, and illuminated sills on the outside.
Inside the cabin on the passenger dashboard, you will notice the British flag rendered in brushed metal, special ambient lighting that creates the ultimate mood you desire, high-quality contrast stitching on its trim plus the exquisite leather seats embroidered with "Diamond within Diamond" quilt patterns. Without a doubt, all of the subtle refinements and sophisticated craftsmanship on the highest grades of real wood, leather and metal simply ooze money, money, and more money!
True finesse from every angle, maximum class at every glance.
Whether from far-out or up-close, you will discover the unmistakable sophistication that is the result of many years of painstaking design and developmental work for the Bentley Bentayga, most certainly benchmarked against the cream of the crop in the luxury SUV segment like the Cayennes and Range Rovers. With so many different components, nooks and crannies throughout the vehicle, detailing it to the highest level of finish was something that was truly satisfying upon completion.
Bentley Bentayga First Edition coated with GYEON Quartz Q2 DuraBead paint protection system
To complete the project to the level of inch perfection on the paintwork, windows, trim, seats, carpet and wheels, we finished it off firstly with top-of-the-range GYEON Quartz Q2 DuraBead coating for the exterior body. As an internationally award-winning brand used by only the best detailing studios around the world, GYEON also offers specialised coating solutions for all other parts of the vehicle designed to perform the best on their intended surfaces and for their specific functions.
Comments
comments