While preparing for Hari Raya, get your car in tip-top condition with great savings today at Regal Valet
It's the time of the year again where we celebrate our diversity together in this holy month of Ramadan.. and we're happy to announce our festive offers to encourage everyone to take better care of their cars and prepare for the upcoming festivities.
Where do you start?
Well if your cars look like they need some professional care to correct any imperfections and rejuvenate the appearance, our GYEON Quartz coating packages are exactly what you're looking for!
Firstly, the Paintwork Correction is a complete recovery and restoration treatment for dull and clouded surfaces marred by fine scratches, environmental contaminants and accumulated flaws.
Secondly, you will want to protect and enhance your renewed paintwork with one of our specialist ceramic quartz coating by GYEON. Choose from coating options that start from RM1000 onwards.
Thirdly, what good is a pristine looking exterior if you don't also have a first-class experience while inside the car? All our packages come with complimentary Interior Detailing as well.
As a bonus, you will also receive an additional AktivCare session worth RM300 and above. This is a mini-detailing session to keep your car looking brand new 6-8 months down the road. It is our version of a maintenance — just a whole lot more comprehensive and valuable.
What if you're an existing customer and you've coated your vehicles in the past 6-12 months..?
We also have a special offer for you: 50% discount on your AktivCare or AktivCare+ session!
So if you're interested, kindly call us today to find out more and start enjoying the benefits of being part of the RV family!
Click here to book your spot and enjoy exclusive early bird freebies!
These offers are valid until the end of Hari Raya.
Check out further information about why GYEON coatings are so loved and respected by top detailers around the world today.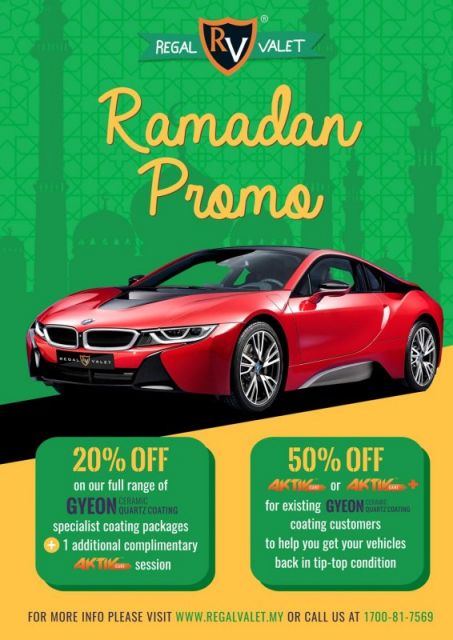 Comments
comments